more contemplative, poetic... insightful, as is usually typical of Malick.
SPR has lots to offer as well, but is a different beast.
The Thin Red Line is the classic though, ripe for repeated viewings with new/different discoveries down the line.
You've seen SPR, you've seen SPR. Great acting though.
"Once this was all Black Plasma and Imagination"
-Michael McClure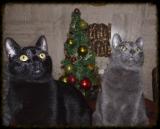 ---
This post is made possible by the generous support of people like you and our sponsors:
---