that I can remember.
Certainly any aspect of the "Alien" series of films has not provided such nor
much of a rosy portrayal of the future human condition. A few great and humourous
lines here and there, but the overall prediction remains rather bleak.
Then there's Blade Runner. I wouldn't be looking for much humour or fun in the sequel
due soon at a theater near you.
I'm looking forward to seeing Covenant and expect much from it.
No humour or fun times though.


"Once this was all Black Plasma and Imagination"-Michael McClure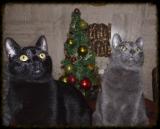 ---
Edits: 08/19/17
---
This post is made possible by the generous support of people like you and our sponsors:
---