Never any names used making the characters all of us.
Lots of The Shining too, with the house seeming alive.
(And is this blocked writer going insane?)
So, some "House on Haunted Hill" then too.
The absurdity factor of the "invaders" was like a deadly serious take on some John Belushi
housepest movie, walking that tightrope just right.
We liked it. The ending was great.
"Once this was all Black Plasma and Imagination"
-Michael McClure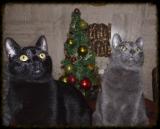 ---
This post is made possible by the generous support of people like you and our sponsors:
---