There's usually some big fun to be had in a Soderbergh film and there was some here.
Must say though the Coen's would have done it better IMO.
Craig was great (remember pre-Bond Road to Perdition?) and Swank does a spot on Clint Eastwood.
Good performances all around.
And there are ALWAYS a lot of great bass lines in a Soderbergh film.
"Once this was all Black Plasma and Imagination"
-Michael McClure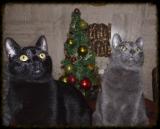 ---
This post is made possible by the generous support of people like you and our sponsors:
---